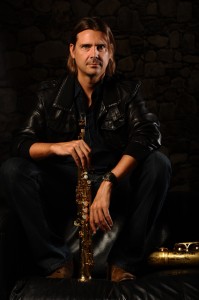 Please join us for our rescheduled TJEA Virtual Jazz Masterclass with Tom Luer this Saturday, March 27, 2021 at 11am Central Standard Time.
The clinic is free and the Zoom address has been emailed to the membership directory. Share the zoom address with any interested students of yours as well. Topics to be addressed may include practice time management, how to get young students started on the blues, the importance of networking, and teaching in the virtual world.
See you this Saturday at 11am for a great professional development opportunity and a fantastic learning opportunity for your students.
Tom Luer Bio:
Tom Luer is a freelance saxophonist who resides in Los Angeles, CA, and is a D'Addario Woodwinds Performing Artist. His album "Project Popular" was released in 2011 to critical acclaim. Recent recording credits include John Beasley's Grammy nominated albums "MONK'estra:Volume 1, 2, and 3" Dave Slonaker's Grammy nominated "Intrada" and Grammy winning jazz vocalist Kurt Elling's "The Brill Building Project". Tom has also recorded with Lee Ritenour, the Alan Chan Orchestra, the Mike Barone Big Band, Wayne Bergeron Big Band, Cooper Phillips, the Bicoastal Collective, and Oliver Future. Music from Tom's CD was featured in nationally broadcast promos by National Public Radio. Tom can also be heard on the soundtrack of the films "Daddy's Home", "Let Them All Talk" and "One Night in Miami".
Tom's television appearances include the NBC's "The Voice", the NBC broadcast of "Sports Illustrated 50 Years of Beautiful" and the "X-Factor" on Fox, the American Music Awards, the Tonight Show with Jay Leno, and the Ellen Degeneres Show. Additional performance credits and tours include John Beasley's "Monk'estra", Gordon Goodwin's Big Phat Band, Poncho Sanchez, Queen Latifah, Tom Wopat, Patrizio Buanne, and Engelbert Humperdinck.
Tom is currently a faculty member at Cal Poly Pomona and has formerly served on the faculty of the Los Angeles College of Music, Texas Christian University, the University of North Texas, and Bethel College-Newton, KS. Tom also serves as the Jazz Program Director for the Shell Lake Arts Center in Shell Lake, WI.